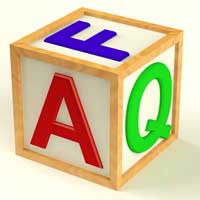 Q: What are your rates?
A: Rates are $150.00 per 50 minute session. Cash, check, or major credit cards accepted as payment. Payment due upon services rendered.  LPC Supervision rate is $300 per month.
Q: Are you licensed?
A: Yes, A. Renee Fromm is a licensed professional counselor supervisor in the state of Texas and holds both bachelors and masters degrees in the field of psychology.
Q: Where are you located?
A: We have a private office in Frisco, TX.
Q: Do you accept insurance?
A: At this time, medical insurance is not directly accepted or filed.  However, we provide a detailed receipt of services that you can file with your insurance carrier.
Q: How long and how often will my child need therapy?
A: Every child and situation is unique. Please contact us for a consultation, and we can discuss treatment needs for your child's specific circumstance.
Q: How will I know progress is being made?
A: A detailed treatment plan is kept for each child describing measurable goals for the treatment period and detailed notes are kept of each session describing specific progress towards those goals.
Q: Do you provide family counseling?
A: Absolutely, we love when the entire family wants to be part of the process.  Family involvement is an integral part of change for a child, and we like to meet with the parents periodically even when primarily working with the child.
Q: What type of therapeutic approach do you use?
A: Our therapeutic approach varies depending on the age of the child.  Click Here to see the services that we offer.
Q: I have a question that wasn't answered.
A: Contact us and send us your question.